1. On the left side menu, Select Inventory > Purchase Orders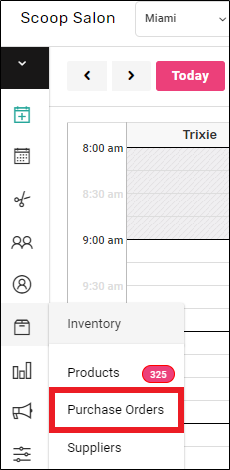 2. Find the desired Purchase order.
The List icon (Tracking) displays an edit log for the purchase order
The Eye icon displays selected the purchase order
The Printer icon prints the purchase order
The Download icon exports the purchase order in a CSV file
The Black Checkmark icon marks the order as received
The Quick-Stock (White Checkmark in Black Circle) icon should be used to re-stock all items in the purchase order to the "Products" list if you received your order in full.
The Restock (Forward Facing Icon in Black Circle) icon, allows you to re-stock the item if ordered amount differs from received.

3. If you select the Restock icon (#7 above) you'll see your Purchase order information populate. Using the + and - to change the received amount.

4. Once you verify all order counts are correct, click "Restock" in the top right to import items received to inventory.