*Note: Total Service Time must = Application + Process + Finish time, always. Not doing so will cause an erroneous message stating that an appointment conflicts with an existing appointment.

1. If your Salon has multiple locations, select the location using the drop-down menu on the top left of the screen upon logging in.
NOTE: If your salon only has one location, skip this step and proceed to step 2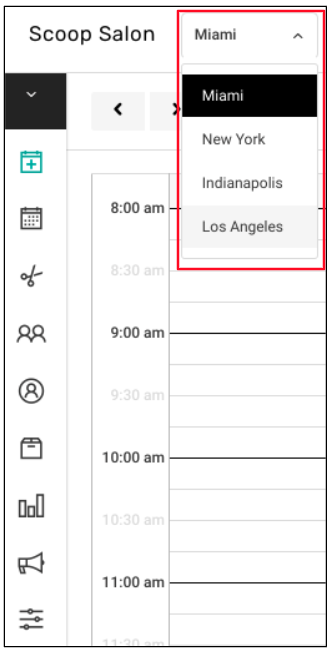 2. Select "Employees" from the left side navigation menu

3. Select the name of the employee

4. Select "Services" (

) on the navigation menu under the employee's profile picture

5. All Service Categories will be defaulted to "ON." This indicates that the employee provides services within the category. To disable a service category for an employee, switch the toggle to "OFF."

6. Within each category, you can disable a specific service by selecting by switching the ON/OFF toggle to "OFF" on the specific service line so that it changes from green to red.

7. You can customize the employee's Price, Service Fee, Total Service Time, Application Time, Process Time and Finish Time for each individual service.
NOTE: The Salon's Default Service Settings can be found in the brackets. If the stylist's setting match the salon's default settings then no updates are needed.
NOTE: Time should be entered in increments of 15 minutes (i.e. 75 minutes) and Service Fee is a percentage of the service total.